The winner for the November/December 2016 caption competition is Yvonne "Catbunny" Pawtowski.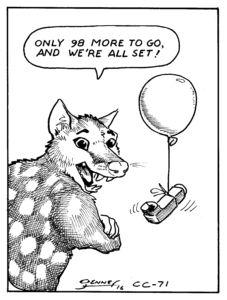 Catbunny surprised me with a rather off-beam entry – it was such a departure from the obvious that it made me stop and think. I love the unexpected! Of course, you get the Eighties pop culture reference, I hope. See this entry and the other suggestions that won special mentions by clicking the link HERE
…and the winner for the January/February 2017 caption competition is Brian Coe.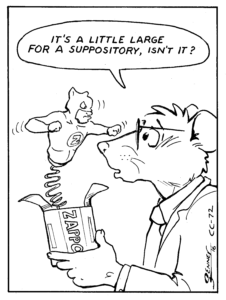 As always, I most enjoy a submission (and as it's about a suppository, I really don't want to call this one an "entry") that adds an extra idea to the whole of the joke. The picture and caption together should give a better end result than the picture alone. 
See this and the other entries by clicking the link HERE.
Congratulations, Catbunny and Brian, your prizes will soon be on their way to you. 
New competition for March/April 2017

Here's the next one, to get you thinking. Remember, if you win the competition, you win the artwork. I don't care how many goes you have at it. Try some obvious ones and some off-the-wall ones. Just go to the competition page HERE.
Some people have noted they have had trouble submitting their caption through the form. This seems to happen with some platforms or devices. Don't be discouraged, just send it to me through the CONTACT page or e-mail me directly on 

Convention appearances:
Jenner will be attending FURDU on the Gold Coast, Queensland, Australia, from 5th to 7th May, and ANTHROCON in Pittsburgh PA, USA, from 29th June to 2nd July.