Now, you can catch up with the adventures of Doctor Ben Rat and friends, in the next two eBooks in the series. Go on-line to Amazon and search for Doc Rat eBooks.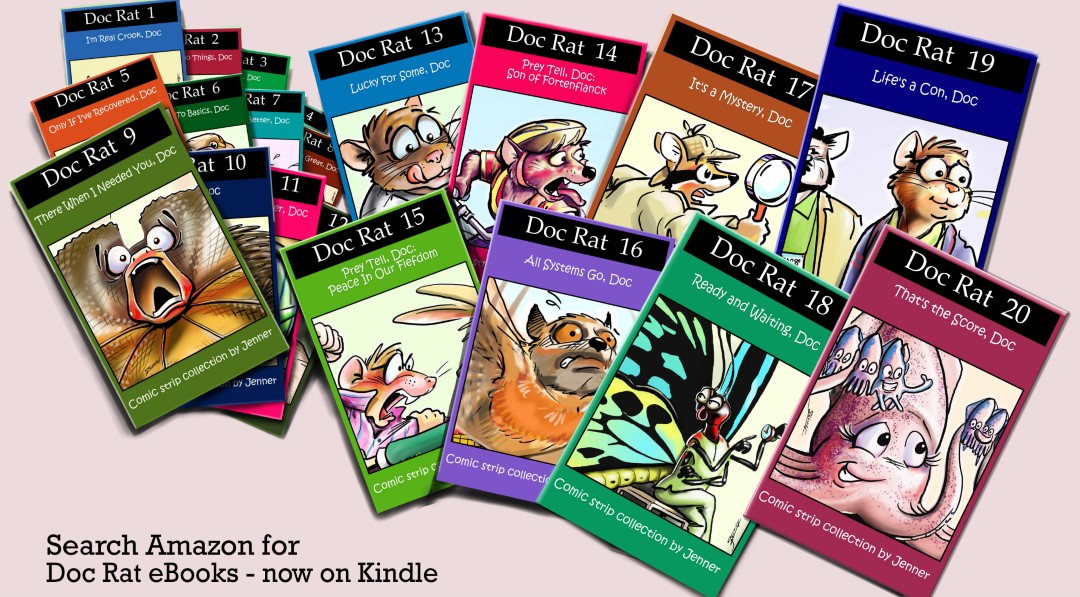 Volume 19 is the collected Doc Rat webcomic strips from October 2016 to May 2017. (DR-2633 to DR-2770). It contains a long story.
Everybody knows we can all benefit from a little education every now and then. Well, this time Doctor Ben Rat takes some time off to travel to an interstate medical conference. There, with his colleagues Dr Lestrange Wolf and Doctor Jayant Purpuhr, Ben finds his search for knowledge taking him into outlandish adventures, and he learns a whole lot more than he'd expected about life, loyalty and the value of the things he holds most precious. Volume Nineteen contains this and of course all the usual Doc Rat hilarity. Or, as they say… Save the world. Share your love.
Volume 20 is the collected Doc Rat webcomic strips from May 2017 to November 2017 (DR-2771 tp DR-2902)
The twentieth Doc Rat collection is packed with all sorts of laughs. The doc performs a cognitive assessment on a genius. Ben and Danni venture into foreign wolf territory for a coffee and sundae. Macaulay bases his school assignment on stupidity in social media. The medical centre is disrupted by roadworks. A resident absconds from a nursing home. And fleas confront the end of the world.