Here, dear readers, is the update on the Doc Rat (Platinum Rat Productions) studio. All relocated, set up and working. 
Now, I'm on a month's holiday in Britain and Germany, including EuroFurence 24, in Berlin.
And now, here a fascinating thing. Have you ever wondered just how far back in time Doc Rat goes? Well, I dipped into my vault of early work and made compilations of the single panel gags. They haven't seen the light of day since their original magazine publications as early as 1995. But you may spot many of the jokes as ones that later reappeared in the Doc Rat strips we know today.
Please enjoy the upcoming procession of gags detailing Doc Rat's humble origins. And after that, it will be definitely back into new works from the canon.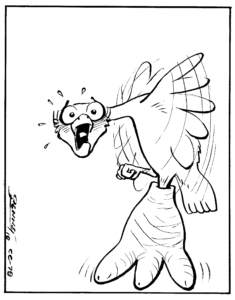 Caption competition 078
On the bright side, I have managed to create a new caption competition. Click here to have a go! 
And… the winners of the three pictures from the past year have now being selected!
Click on each picture to reveal the winners and all the funniest suggestions.