Hi all you happy Doc Rat readers. Here's the next Caption Competition challenge for you. It's the serving staff for Hasty Taste deep-fried lardburgers. Now, use your imagination and come up with something funny to complete the cartoon. The competition winners have usually been those whose caption adds more to the joke than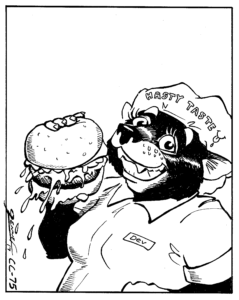 just a recap of the picture. Pertinent, off-the-wall or sometimes just surreal in a perfectly-focused way. So go ahead – try your luck. You could be the next person to find some free, original Doc Rat artwork winging its way to your home. 
Click on the picture to be taken to the competition page. Then send me the funniest caption you can think of, and if yours makes me laugh the most, you'll win the actual picture itself. Get to it.
Some people have had trouble getting the caption entry machine to work. If that happens, please just e-mail to me on :

Here are the three strips from the Doc Rat story showcasing our smiling Tasmanian devil who sells these dubious burgers from the hospital's fast-food servery. You personally may or may not think that such an outlet has a place in a hospital, but that sort of thing does happen. (Legal disclaimer: This is a general fast food parody and is not meant to comment on the attributes of any particular company or products.)



And we have a new winner, from May/Jun 2017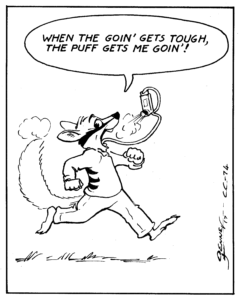 Alun Rundle, Newport, South Wales, UK
You came up with the perfect motivational message for all people with asthma. 
How can someone look at this and not smile. Isn't Jarrad delightful?
The prize will be on its way to you soon.
And enter the current contest. You too could be a winner.