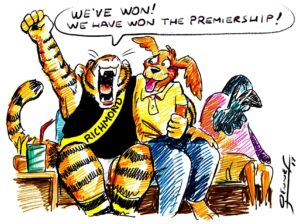 Pat the Tiger is a massive fan of the Richmond Tigers AFL football club, in the game we call Australian Rules football. Pat and his partner Pat the Dog have just been watching their mighty Richmond Tigers at the Melbourne Cricket Ground (MCG) for the Grand Final. They've been shouting themselves hoarse. 
Richmond Tigers: 16 Goals, 12 Behinds = 108 Points
Adelaide Crows: 8 Goals, 12 Behinds = 60 Points
RICHMOND WINS THE 2017 PREMIERSHIP!  For the first time since 1980!
Pat and Pat are ecstatic. It's going to be an exhausting night of celebration for both of them!