But first, Shirl Dryandra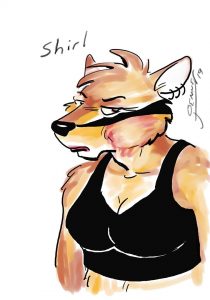 Here's a portrait of Jarrad's long-suffering mother.
And not on a good day.
Now scroll down to see the caption competition news.
Caption competition for July/August 2019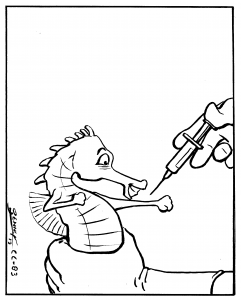 What's with the doctor giving the seahorse a shot in the arm? Does a seahorse even have arms? Maybe in the weird place called the Jennerverse they do. But from this, with a clever caption, I'm hoping you'll add the missing ingredient and turn this simple picture into a very funny single panel gag cartoon. That's all the help I'll give you – the rest of the joke is up to you!
Click on the picture to be taken to the competition page. Then send me the funniest caption you can think of, and if yours makes me laugh the most, you'll win the actual picture itself. Get to it.
We have a winner for March/April 2019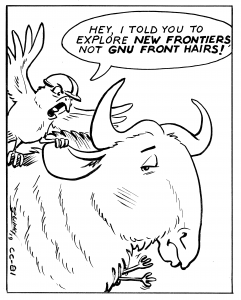 The winner of the cartoon with the gnu and two birds is Bruce Griffiin, of Warrensburg, Missouri, USA
…and a winner for May/June 2019
And the winner of the cartoon with the doctor , the patient, the X-ray and the pizza is Daniel J. Drazen, of Berrien Springs, Michigan, USA.