Here are the last two winning entries, for all of you who entered. The first is a seahorse receiving a shot (of what?) The second is Doctor Bill, a social media celebrity medic, who happens to be an unbelievably gorgeous peacock. Ben and Daniella were following his videos on EweTube (here). So what did you all think Doctor Bill had to say for himself when you met him in person?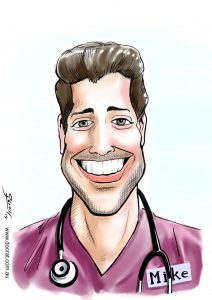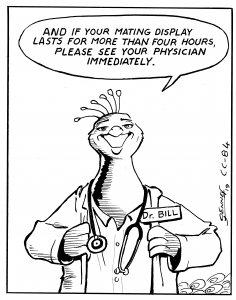 (Doctor Bill was inspired by Doctor Mike, who can be found on YouTube. Check it out, to see what all the fuss is about. To help identify him, I've drawn a useful caricature. Doctor Mike is a family physician, like me, so he gets my vote of approval.)
Click on the picture to be taken to the competition page. Then send me the funniest caption you can think of, and if yours makes me laugh the most, you'll win the actual picture itself. Get to it.
Use your imagination and come up with something funny to complete the cartoon. The competition winners have usually been those whose caption adds more to the joke than just a recap of the picture. Pertinent, off-the-wall or sometimes just surreal in a perfectly-focused way. So go ahead – try your luck. You could be the next person to find some free, original Doc Rat artwork winging its way to your home.