The caption competition for May/Jun 2016 has been judged, and the next contest for Jul/Aug 2016 has been posted. Have fun! 
If you find you can't submit your entry using the competition form, then until we rectify that, simply go to the Contact page. Don't forget to identify your name and home city.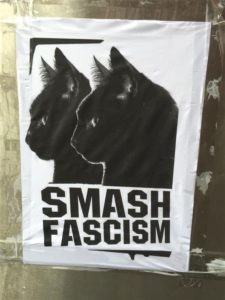 Jarrad's inadvertently revolutionary posters were based on one particular poster I saw a couple of months ago, in the university district of Carlton, here in Melbourne, I was intrigued by it. Although it implored me to Smash fascism, beyond that it was remarkably short on instructions. And I always find that pictures of adorable cats soften every message, so that made it doubly perplexing. I could imagine Jarrad wanting to spread joy and love, but messing it up in his own tangle-footed way. How far can this seven-year-old boy and his crew push the world to the brink of disaster in the name of peace?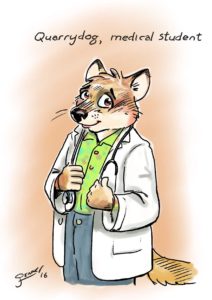 And here's a sketch of Quarrydog, dressed up as a medical student. Yes, of course he's only thirteen – I'll have to be drawing Doc Rat for many more years before he reaches university age in the story. But we can dream, can't we?