Special Doc Rat print offer
If you would like a signed colour print of  Daniella and her band of young warriors, just send Australian $20 via PayPal to

and I will mail it out to you. The mailing cost is included in the price, and remember, you need pay only in
Australian
dollars, which are worth very little anyway! So treat yourself.
The winning entry is from Lucius Appaloosius, of Mystic, Connecticut, USA
Special mentions:
"But Dad, this is the third one that broke! Can't we just get the Kevlar one, like Mum said?"
– Eleanor, Ballan, Victoria, Australia
 "Please fix my horse Doc.  We were just swimming alone when he ran out of steam!"
– Rebecca Swanston, Vancouver, Washington, USA
 "I thought this was supposed to be puncture proof."
– J Rhine, USA
"Now I see why Sonic doesn't like going near water!"
– Phil McCarty, Gaithersburg, Maryland, USA
"I was hoping to get a 'swimming buddy', but no one wants to come near me… I don't know why!"
– Jed G. Martinez, Margate, Florida, USA
"So it's not soft water, then?"
– Jenner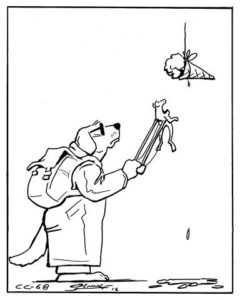 The May-June 2016 competition is now open.
Please submit your entries in through the Contact  form. (Not the Competitions form – we're having a little bit of a problem with that.)
Think of the funniest caption you can, and you may win the original picture as a prize.
And remember: 
Doc Rat is now on Twitter @DocRatComic