The regular strips of Doc Rat are going to take a pause for a bit – for three weeks, to be precise. Various commitments have taken precedence over my drawing board time, the most important of which is my part in the running of ConFurgence 2018, from 23rd to 25th February. The principal guest of honour will be the wonderful artist, photographer and animator, Joaquin Baldwin. I do thoroughly recommend you consider making the journey to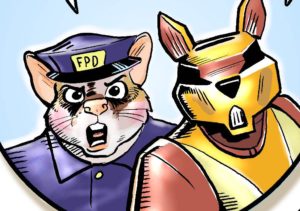 Melbourne, Victoria, Australia, for our annual anthropomorphic convention, one of these years. You won't be disappointed. 
In the meantime, even though the regular strips will be on pause, dear readers, fear not. You'll still get a daily offering, a sort of scrapbook from the Doc Rat sketch vaults. Every day will be a new surprise. Then, on Monday March 12th, we'll rejoin the wolves and the rabbits as they toward the climax of our current story.
More news about what's coming up in 2018 will follow.