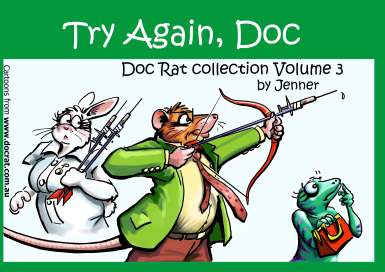 Try again, Doc
The collected Doc Rat webcomic strips from June 2007 to December 2007. (
DR-0261 – DR-0392)
More antics from the crew working hard to run a family medical practice. Ben treats coughs and colds in the rainy season. A clever use of fleas to cure an alcoholic dog. Jasmine the rabbit keeps her baby bunnies safe. The latest Harry Potter book release craze. The doc starts a daily exercise routine but fails to steer clear of video game addiction. And there are helpful examples of how to decipher Australian language. 
What people say about Doc Rat Collection #3
Well drawn, well written and well worth reading – I prescribe regular doses of Doc Rat.
Phillip Adams AO (Late Night Live, ABC Radio National) 
Doc Rat is one of the most engaging web comics I have ever encountered, a true delight for medical professionals and patients alike.  Dr. Jenner presents us daily with endearing characters whose tales are hilarious, poignant, heartwarming, tragic, and often all at the same time.  His storytelling talents are truly masterful, although his liberal use of puns has been known to lean precariously toward a violation of his Hippocratic Oath.
Samuel Conway, Ph.D. ("Uncle Kage"), CEO, Anthrocon Inc., USA
It would be wise to attach a note warning people with hernias that reading these books could be hazardous.
Emeritus Professor Max Kamien (Australian Doctor magazine)